Hallowed Crown x Humma Mumma 2yo Filly – Super Vobis
Purchased from the 2018 Melbourne Premier Sale - $110,000 (GST INCL)
"Looks an early runner and from the same mould as the Group 3 Placed Half Sister Humma Humma"
Pluck x Silvery Sheila 2yo Filly - BOBS Eligible
Purchased from the 2018 Gold Coast Magic Millions Sale - $55,000 (GST INCL)
"Precocious filly with an athletic build and looks a runner".
Ocean Park x Cohiba 2yo Filly
Purchased from the 2018 Karaka Sales - $40,000
"A 3yo middle distance to staying type filly with a well balanced walked".
So You Think x Satirical Delight 2yo Colt - BOBS Eligible
Purchased from the 2018 Inglis Classic Yearling Sale - $160,000 (NO GST)
"Big, Strong athletic colt with a flowing walk and is ¾ brother to the Group 3 Placed Smart As You Think".
Wordsmith x Miss Eastloch 2yo Colt - TASBRED Bonus Scheme
Purchased from the 2018 Tasmanian Magic Million Sale - $33,000 - (GST INCL)
"Looks to be an early runner and then train on as a 3yo. Is from the same family as the Group 1 Placed Absolute Faith".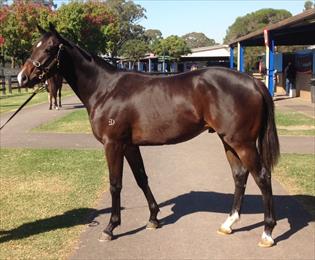 View pedigree
Bullet Train x She's Ready 2yo Colt
Purchased from the 2018 Melbouren Vobis Gold Sale for $16,000 (no gst) – Super Vobis and BOBS eligible
"An athletic type with a great attitude who conducted himself well at the sales"
Per Incanto x Grable 3yo Filly 
Purchased from the New Zealand Bloodstock Select Sale for $300,000 (GST NOT INCL)
"as nice a filly as we have ever bought. She is outstanding, physically as a type, as shown by the amount of competition on her. She is strong enough to run at 2 but will train on".
Private Profit 2yo Filly – Super Vobis Nominated
Purchased from the Tasmanian Magic Millions Sale for $20,000 (NO GST)
"typical of the fillies we have bought down in Tassie she is a good moving athletic filly who should get to the races as a later 2yo but be at her best as a 3year old".
Merlin Miss 3yo Filly – BOBS Eligilble
Purchased from the Inglis Classic Sale for $55,000 (GST INCL)
"a real running looking filly by the same sire as our 2year old winner Hope Ya Don't Mind. She is similar to this filly and looks a real early running type".
First Water 3yo Gelding – Super Vobis & BOBS Eligible
Purchased from the Inglis Melbourne Premier Sale for $99,000 (GST INCL)
"he is a real classic Derby staying type who looks like he will take a bit of time. He is a big horse with plenty of scope and is a lovely mover. He will be more likely to be a 3 year old before he runs".